GIVING ICEROCKET PROPS... REVIEW OF SEARCH SERVICES IN SOUTH KOREA
Ok. I knocked on Jason Calacanis for being biased in my prior post, but I checkout
IceRocket
again and I like some of the features they present. When you do a blog search, they date when a post went up in chronological order. Pretty good. I use this engine once every couple weeks and they still provide a screenshot whenever possible of your web search results. I'm sure some people like this little bell. A new (or old) thing I found cool was when you do a multimedia search, they present the results in subcategories, which is pretty cool. If you look at the screenshot below, you'll see the results for "U2" in their multimedia search came up with "55 artists, 56 Albums, 842 Songs, 1 Music Video" as the results.
IceRocket screenshot
This reminded me of South Korean search engines and how they present their results, which I think is slightly ahead of U.S. engines in terms of presentation related to our Web2.0 world. If you look at the screenshot below of Naver.com (Yahoo! Korea has a similar format), I typed in "Katrina" (better results with Korean words obviously) and it comes up with results in various subcategories, which are:
Cafe Blog
Books
Knowledge Database
Music
Recent News
Websites
Photo Images
If you're wondering what "Knowledge Database" is, this the functionality that gives Naver.com (NHN Corp. is the parent) 80% market share in Korea and the reason why Google cannot penetrate this market so easily. This is basically what Yahoo! would like to do with their local search. This service allows people to enter their personal knowledge and recommendations for search results. Anyway, it's not a great screenshot, but hopefully you can get an idea of the layout of Korean search engine results from this picture.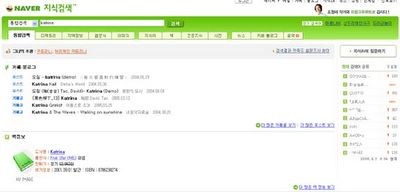 Naver screenshot