ENTERPRISE 2.0?... GOINGON NETWORKS IS ENTERPRISE 2.0
I came across
Dan Farber's post on "Enterprise 2.0 = Next Generation IT"
and the various discussions around the term "Enterprise 2.0." His colleague, Dion Hinchcliffe,
drafted a definition
with a nice graphic:

Enterprise 2.0 in general describes the liberation of often previously inaccessible corporate information to be opened up to general discoverability, consumption, and reuse using a Web-based model.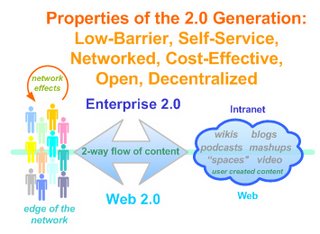 I would add to Hinchcliffe's definition that
it is not simply opening up corporate information but opening up the corporate culture to the commonly practiced behaviors within the consumer "Web 2.0" space.
While obvious and esoteric, this is important to emphasize because it will be a point of tension and conflict within companies for years to come as they struggle to deal with open conversations between themselves and their customers, partners and the media. As the number of "Web 2.0" users grow, the workforce will become more familiar with blogging, sharing, mashing up, and other behaviors and practices of this new era and companies will eventually be forced to play catch up.
Our team, at
GoingOn Networks
, deals with this everyday since we are by definition an "Enterprise 2.0" platform and actively selling to the market. After we did our "soft beta" launch several weeks ago, we started poundng the pavement to sell our "private label MySpace" to companies and organizations. Through these discussions, we learned an incredible amount in terms of what companies want, expect, and don't know about. And we continue to learn.
Dan Farber points to related posts, so I read Jerry Bowles' post on
"Top 10 Management Fears About Enterprise Web 2.0"
which comes more from an IT perspective. This is important for our company down the road, but not so relevant now since we're strategically focused on selling to marketers as a first step. Why? Least path of resistance. We're providing powerful communication tools for marketers and making life easier for them where they don't have to go through their IT departments. This is similar to tools such as WebEx and Citrix's GoToMeeting. Corporate employees didn't have to go through their IT departments anymore to access and use such meeting tools. All they needed was their PC and a credit card.
Vinnie Mirchandani has an interesting checklist definition of "Enterprise 2.0,"
which I'll answer some of them from our startup's perspective:
a) supports choice of customer deployment of functionality as a service, and in installed mode
YES
b) is architected and priced/sold as a series of services
YES
d) largely automates bug fixes/upgrades which require little customer (or service partner) intervention
YES. The beauty of software-as-a-service and the benefit of being a GoingOn customer is that we are constantly upgrading our platform and integrating the best features and
third-party technologies into it
.
g) commits to transparency to customers around product quality, customer service ticket resolution, outages (where provided in SaaS mode) etc.
YES
i) actively encourages a on-line developer/integrator community and pushes for an "open source" licensing of community intellectual property
YES. We will be opening up our platform in the near future, so developers can build on top of it. Since our platform is based on modules, we want developers to create modules to share or sell to the greater GoingOn community.
It has been exciting and fascinating to watch the market unfold as the months go by. After we started to spec out our software platform back in early 2005, BusinessWeek came out with their
"Blogs Will Change Your Business"
cover story. We didn't expect the market to move so fast towards what we envisioned. Now it's not simply about blogging but more companies and organizations are seeking out the transparency of their customers or members. Intelligence gathering capabilities are important for companies and something we planned from the very beginning to offer to them.
When we begin selling to IT departments for internal corporate communications and collaboration, it will be interesting to see the response and resistance which will be different from our current experiences. Our product will also have more options for these types of customers. You will see our message board module coming out soon along with a job board, wiki module, and file sharing capabilities. Any other modules or functions that are important for enterprise? Ping me and we'll definitely consider it.