VOIP PICKING UP... SKYPE QUALITY LOWERING?
My friend, Dave, who is an avid VoIP user (testing out all the services) told me that Skype's quality has been fading a bit and we were both wondering if it was due to the rapid growth of its user base and the inability for the company to keep up with a stable infrastructure. I really don't know how the architechture is set up, but I assume its rapid growth has to do something with the lapses in quality. Dave is a premium SkypeOut user and he has recently experienced call droppage, which isn't good on business calls. I'm sure Skype is working to stablize their system and correct these bugs. Anyway, it still amazes me that they have over 119 million downloads of their software and over 1 million premium users in such a short period of time.
Some recent data on the VoIP market
from eMarketer:
VoIP subscriber numbers continue to ramp up and competition shows no signs of abating.

TeleGeography recently joined a number of other research companies in releasing its predictions about the VoIP residential market, estimating that the number of US residential VoIP subscribers in the US will reach over 4.1 million in 2005, up from 150,000 at the end of 2003. As of March 2005, the number stood at 2 million, meaning that growth will be great enough to double that figure by the end of the year. Revenues for 2005 will total over $1 billion.
(
full article
)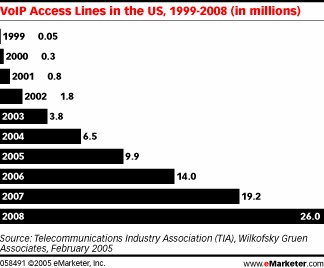 VoIP Access Lines in the U.S.