CGI IS THE HOT SEGMENT OF THE MOVIE INDUSTRY... THE INCREDIBLES
Blogger was down yesterday, so I didn't get to post anything. I saw "
The Incredibles
" last night. It was good, but not great. The story has some slow parts and some predictable scenes, especially if you're an old comic book fan, but a overall decent film.
The
CGI segment
of the movie industry is definitely the hot growth area. The youth market is underserved and growing while the average cost of production on these films are lower than the industry average. Making the average margins on these computer-generate imagery movies gold for the major movie studios. Every studio that hasn't secured CGI partner is looking for one. Disney and Pixar are up in the air, but still the standard of the industry. Dreamworks bought out PDI a few years back ("
Antz
" & "
Shrek
"). Fox bought Blue Sky ("
Ice Age
"). Here are some other snapshots of the industry I had from a deal I worked on: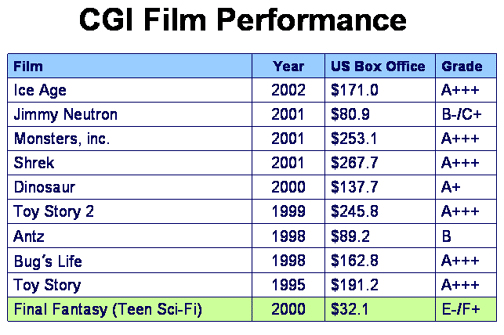 On the last slide, you might be able to notice or remember from these movies the difference in quality between "
Monsters, Inc.
" and "Johnny Neutron," which let to the huge difference in cost (e.g. free-floating hair on the monsters vs. johnny's stiff, immobile hair).